Climate change has been a trending topic for years now, and essay writing services have seen a lot of similar requests for academic papers dedicated to it. However, no student or context for the topic is the same for us. We treat every case as unique, which is a guarantee of a great essay. Like the one, you can see below.
Countries all over the globe have been impacted by climate change arising from environmental degradation, Australia being no exception. Over the past century, the temperature in Australia has risen by 0.8ºC, with the minimum temperatures rising quicker when compared to the maximum. On the other hand, the western parts are receiving lesser rain. An increase in coral mortality and bleaching in the Great Barrier Reef have been attributed to a rise in the sea surface temperature. Although the rise in the sea level in Australia has varied across its regions and has remained below the global average, the Snowy Mountains have seen a fall in snow cover. According to CSIRO, when compared to 1990 figures, the average annual temperature by 2030 could rise between 0.4ºC to 2.0º C and 1.0ºC to 6.0ºC by the year 2070 (CSIRO, 2001). The level of climate change in the future remains uncertain and debatable, although it is certain that fluctuations in rainfall, tropical cyclones, and El Nino Southern Oscillation events, as well as decreased snow cover and duration can be expected.

Fluctuations in rainfall and temperatures can have a major impact on natural vegetation as well as agriculture. Although it has been suggested that rising CO2 levels will, to some extent, balance the scale against water stress, this has not been factored into the most prominent models in place to forecast the impact of temperature and rainfall change. However, this increase in CO2 levels could also negatively impact delicate ecosystems. It is expected that it will lead to heightened forest development, woody shrub incursions into arid and semi-arid lands, higher levels of coral bleaching, encroachment of freshwater wetlands by mangroves as well as an increasing existence of woody species at greater altitudes in alpine regions (Berry & Roderick, 2002).
Considering the fact that even the slightest changes in climate can lead to the extinction of several species of flora and have a domino effect of the animal kingdom as well, it is crucial that past and current data is accurately and comprehensively documented in order to predict future changes effectively. However, unlike countries in the Northern Hemisphere, Australia does not have conventional phenological observation or extensive datasets. Although climate change in the continent has traditionally been attributed to over grazing, clearing of forests, and forest fires, the impact of the encroachment of eucalypt woodlands by rainforests as well as the planting of trees in subalpine fields have been mostly ignored (Hughes, 2003). The transfer of specific animal species based on changes in temperatures and rainfall have given proof of the impact that this change has on the fragile habitat. Although the Australian government rightly states that it has one of the most effective tracking systems and wide spectrum researches that focus on climate models, systematic observation, process studies and emission reduction, the existing framework hardly compares to the leaders in climate change research and technology. For a continent such as Australia which is particularly prone to the impacts of climate change (Nicholls & Collins, 2006), a more advanced and comprehensive approach is needed on the part of the people, the corporations as well as the government.
The Australian people are well aware of the fact that climate change is having an adverse impact on their environment. As per a survey conducted by The Sunday Telegraph in 2006, 54% of the respondents stated that global warming was the greatest risk facing Australia, more than terrorism which came in second with 20% of votes (PMSEIC, 2007). However, while the general Australian might be aware of global warming, the finer details that impact climate change may be going unnoticed. Similarly, while most modern corporations claim environmental protection to be a part of the corporate social responsibility, it is not sufficient for them to be focusing solely on saving energy and water. Organizations still view spending on 'Green' initiatives as a cost that yields little or no returns. As such, communication has been a key towards guiding the general public as well as the business community in the right direction.
In order to address the address the problem of climate change in an effective, planned and controlled manner, the government of Australia has undertaken several key initiatives, known as the 'Three Pillar Climate Change Strategy' (Department of Climate Change, 2010). To begin with, the Carbon Pollution Reduction Scheme or CPRS is the government flagship program aimed at substantially curbing greenhouse gas emissions that are leading to a rise in temperatures. Secondly, the government acknowledges the need to adapt to facets of climate change that cannot be prevented. Finally, it seeks to play an active role in devising an effective solution to climate change that can be implemented globally. The details of the Three Pillar Strategy have been listed in Table 1:
Table 1: The Three Pillar Climate Change Strategy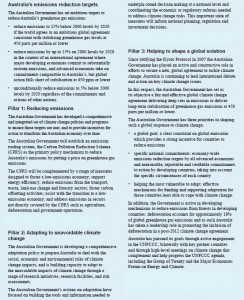 As part of the United Nations Global Impact, initiatives have been taken to present 'green' expenditure as a long term investment whereby the organization not only adopts future technologies today to boost efficiency, but also builds goodwill among consumers for being socially and environmentally responsible (Mackenzie & Francisco, 2007). PMSEIC further notes that communicating the progress of initiatives, research findings as well as statistics to the business community as well as the general public is crucial in order to drive more effective climate change adaptation and prevention
In conclusion, while there is sufficient general awareness among…