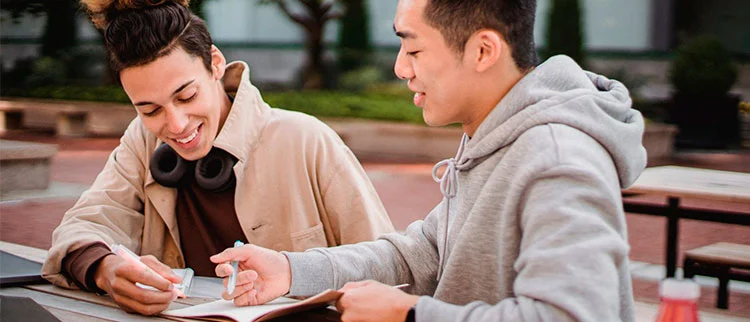 100 Synthesis Essay Example Topics and Expert Writing Tips
Writing a synthesis essay may sound all fancy and scholastic, but it's not that difficult in reality. Yes, it takes some time to gather all the necessary information and the skill to digest and present it. Still, with good synthesis essay topics and some practice, you will nail this assignment!
If the deadline is looming and you have no time left to master the subtleties of analyzing and synthesizing, hire one of our expert essay writers. They will create a perfect sample for you, illustrating all the features of the format. However, if you want to take care of this assignment all by yourself, read on.
What Is a Synthesis Essay?
To understand your task better, let's start with a synthesis essay definition. The literal meaning of "synthesis" in Greek is "place together." Synthesis means combining elements of several sources into something new. A synthesis essay is a written discussion that incorporates data from various sources and differing views to form a new idea or argumentative thesis.
The synthesis process is somewhat similar to comparing and contrasting: you identify particular themes or traits observed in all your sources, find similarities and differences, generalize, and integrate your observations into a coherent picture. Then, you reorganize this material and lay it out to drive your thesis.
Basically, every research paper is a synthesis. You study everything written on the matter (or at least some select definitive works), and then you come up with your own idea based on all this information.
Synthesis is not as difficult as it might seem. You synthesize all the time – for example, when deciding which movie to watch. First, you look at posters and trailers. Then you choose a couple of the most appealing titles, read reviews of them, and gather your friends' feedback. Then, you look at the time slots available in theaters, screenings locations, ticket prices, and other things. You assemble it all, compare, and make an argument about which film you should go and see based on how interesting it is and how convenient it is for you.
The skill is already there! Now all you have to do is to apply it in the domain of academia.
Synthesis Essay Tips for Beginners: Dos and Don'ts
The best synthesis essay examples report information accurately and organize it in a way that makes sense of the sources. They present clearly where the sources overlap or contradict each other and what it ultimately means in the big picture. Here are a few rules of thumb that will help you produce such an excellent example.
Start writing only when you have a working thesis
This general advice works for any paper, but it's particularly true for a synthesis essay. After you have studied your sources, you have so much information that it's easy to lose focus and get bogged down in various facts and ideas – especially if you are trying to be objective. Having a working thesis will keep your attention on a narrower swath of it all.
When you have zeroed in on a particular argument or aspect of your topic, it's easier to select relevant facts and evidence and dismiss all that is less important.
Your sources will often have the same facts and similar ideas. If you only summarize, you will end up retelling the same thing paragraph after paragraph – even if in somewhat different words. That is why the string of summaries doesn't make a good synthesis essay.
Ultimately, synthesis is about making connections and putting things together in a meaningful way. After absorbing all this information, process it, crystalize ideas and then rearrange them in a way that serves best to prove your thesis. That's the way to write a good synthesis essay.
Don't overwhelm your reader
When you've done titanic work finding and reading through many sources, you might want to share all the knowledge you've gained with your readers. However, simply bombarding them with facts, quotes, and statistics won't be a good way to do it. Instead, it will confuse your audience.
Identify the crucial facts and arrange them logically, to make a point about your subject. Put them in context, interpret them, and make them more accessible to your readers. Remember, unlike yourself, they might be completely new to the topic.
Start paragraphs with topic sentences
To unite the varied pieces of information into a coherent argument, structure your paragraphs around topic sentences that express the main idea of this section. Each topic sentence should be a supporting point for your main thesis statement. Then proceed to explain and expand on the main point. Follow the explanation with concrete facts and quotes from your sources. They illustrate your point, making it accessible, but also give authority to your own ideas.
Don't start paragraphs with quotations from your sources
Although facts and quotations from the original sources make a great illustration of your points, beginning the paragraphs with them is unproductive. The most effective way is to start from a general topic and then move to specifics. Start by telling what point you want to make and where all this evidence fits in the bigger picture of your argument. Then you can use borrowed material as specific evidence to support it.
Whether you quote a source directly, paraphrase it, or only allude to it in passing, always give a reference to the original. Also, it's a good idea to tell your reader why you think this particular opinion is important. Add some information that explains your choice: the author is a recognized expert in the field, has been studying this topic for a long time, has access to rare primary sources, has surveyed the most representative pool of respondents, etc.
100 Original Topics to Write a Synthesis Essay On
The perfect way to follow up our guide is with some good topics for a synthesis essay. We hope that you will find among the below topics example that will inspire you to enthusiastic research and a fruitful write-up.
STEM
Face recognition and biometrics: benefits and potential hazards
Perspectives of using AI assistants for customer support and information services
Cloud data storage protection against unidentified security threats
Blockchain technology applications beyond cryptocurrency
Sustainable and safe water treatment technologies
Environmental and medical application of bionic sensors
Hurricane-resistant architectural concepts and house designs
Air raids and protective construction: resolving infrastructure-related challenges for war zones
Evolution of urban mobility ecosystem
Biological modeling for building better cities
Urban architecture against global warming
Planned obsolescence vs. sustainability: design approaches for efficient longevity
Types of bias in data analysis and machine learning
Sustainable technologies for zero-carbon travel
New materials for improved efficiency of solar panels
VR-simulation programs for rehabilitation after brain injury
Culture
Actionism, activism, and performance art: correlation between art form popularity and political system rigidity
Art's role in society through the ages
The phenomenon of a modern polymath
The fluidity of gender norms: a fashion history survey
Magical realism as a global phenomenon
Folkloric monsters and cultural traumas they represent
Shifting images of Japanese samurai and European knight
The history of writing
Conceptual architecture vs. physical architecture
Vandalism to art: the intentions, influence, and growth of graffiti
Ethical issues of "method acting"
The hero this city deserves: Spring-Heeled Jack vs. Batman as urban personifications
The commodification of cultural heritage: empowerment or disenfranchisement?
Dealing with difficult history: the ethics of cultural heritage
Art in a time of war: individual expression and political propaganda
Blood, sweat, and tears: the darker side of K-Pop idol factory
Stepping out of the shadows: forgotten women artists
Sociology
Generational conflict and social expectations in immigrant families
Fighting disinformation in a world of populism and post-truth
Raising the status of indigenous languages through policies and economic value
Sharing bread: food as an ambassador of culture
Workplace microaggressions and ways to reduce them
The politics of religious texts interpretations (on the example of the Bible, Quran, Torah, or other text of your choosing)
Main challenges of planning education for the labor market
Refugees and human trafficking
Morality meets reality: ethical issues of sex work decriminalization
Smoke and mirrors: how propaganda manipulates opinions through social media
Factors contributing to the extreme polarization of today's society
"Perfect victim": crimes that get mainstream media coverage and biases they expose
Online youth radicalization and ways to prevent it
At the dinner table: why discussing politics within the family is important
Challenges faced by the "sandwich generation" and ways to alleviate them
Factors contributing to domestic abuse
Long-term psychological effects of a global pandemic on teenagers
Health care
Health risks linked to obesity in children
Factors contributing to longevity and quality of life in elderly
The efficiency of mRNA vaccines against various strains of SARS-CoV-2
Effects of smoking on different systems of organs
Medicinal uses of cannabis
Most prevalent cancer comorbidities in patients of various age groups
Best physical activities for public health (injury risk to health benefits ratio)
HR strategies for lowering turnover in medical staff
Mental health stigma in society
The use of placebo in medical trials
Bioethical problems of DNA-editing
The advances in treating sports injuries in the last 50 years
Balanced diets based on local-grown food sources for various regions
Possible causes of food allergies and their prevention
Sexual health in elderly
Prevention of substance abuse and addictions in teenagers
Education
Mentorship and role models in vocation orientation for high-school students
TikTok University: Perspectives and limitations of online micro-learning
The future of standardized testing: benefits, limitations, and possible alternatives
Challenges and perspectives of peer learning in distance education
Challenges and techniques of teaching English to Mandarin speakers
Early language acquisition and phonics awareness in international adoptees
The conversation about race in kindergarten and elementary school
AI and Big Data tools for a personalized approach to teaching
The role of the instructor in self-directed learning
Life/study balance: curbing stress and sleep deprivation in college students
Technological tools in teaching non-verbal ASD students
Benefits of learning arts and crafts for students of different age groups
Correlation between class size and student performance
Impact of distance learning on college enrollment
The effectiveness of internship and career programs for high-school students
Doom and gloom: shifting sex education narratives from perils to pleasure
Gender bias in school dress codes policies
Environment
Sustainable farming techniques in arid areas
Perspectives and risks of atomic energy
Harvesting water: the most viable projects of water collection in desert regions
Challenges of global warming for traditional agriculture
New sustainable techniques for growing coffee
Green architecture for big cities
Shaping consumer culture for sustainability
Industries with the biggest carbon footprint and ways to reduce it
Renewable energy sources: an updated outlook for the post-pandemic sector
Factors contributing to the decline of the bees population
Possible effects of microplastic on the human organism
Primary sources of plastic pollution of the ocean and its impact on marine life
Climate change and biodiversity
Crowd-sourcing for monitoring biodiversity
Amazon forest conservation programs and their effectiveness
Perils of global warming for humanity
Desert terraforming projects
These are only some examples in several most popular subject areas. If you need topic suggestions or a customized essay sample in a discipline that is not on this list, we will gladly assist you!