Referral Program
Imagine a service that helps you out whenever you need it and allows you to make money at the same time. EvolutionWriters.com is just like that. Thanks to our Referral Program, you can start earning money and either withdraw it or use it to pay for our services.
Give 10% - Get 10%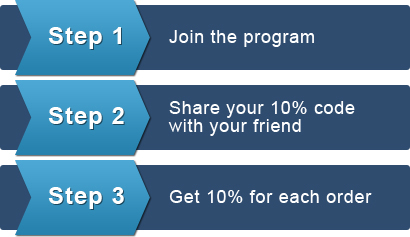 Sign up for the Referral Program today to get started!
The Referral Program in details:
Register to sign up for the program
Sign in to get the referral code
Send out your code
Your friend gets a 10% discount for the first order, and YOU get 10% from every paper he/she orders.
Can my friend and I both use the referral code?

The promo code will work only for your friend. However, there is a number of ways you can save – check out our discount policy!

Is it possible to use the discount code for each new order?

The code will work only once. Future orders are eligible for 5% or 10% discounts. Find out more here.

Where can I see the amount of money I have earned already?

Go to your personal account at EvolutionWriters.com to check the balance in the Referral program section.

I would like to make a withdrawal. How do I do that?

Once you have $100 on your account, withdrawals become possible. Email a request together with your payment details to support@evolutionwriters.com at least 4 days before the date of payment period starts. Please bear in mind that the transfers are made between the 16th and the 20th of each month.

What payment systems are used to transfer money?

We will send your earnings to Webmoney, and Payoneer.